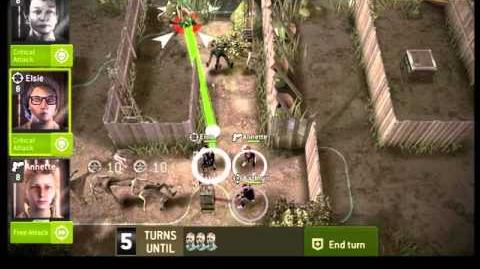 Outpost are bases created by players which you raid for goods and glory. It brings player versus player gameplay to No Man's Land.

NEW BUILDINGS
Edit
The Walker Pit is Used to prepare walkers for defending your Outpost. You can level up the walkers you have, as well as add more walkers to your team. Level up the walker pit to capture more walkers.
Used to configure your Outpost and gain a constant supply of Trade Goods.
You obtain Trade Goods from capturing Outposts. Your Outpost building also generates trade goods over time.
Trade goods are used in the trade shop; found under the build/shop menu.
Influence is how well you're doing against other players in PvP. You gain Influence by winning Outposts fights.
You are matched by Influence, within 100 points in either direction. OldGoth Staff
THE TIMER
Edit
You have eight minutes to complete the Outposts mission. This is because the player you're attacking can't log in while you're raiding his Outpost. We're hoping to fix this soon, so the timer wouldn't be required.
HOW TO WIN
Edit
After you finish one of the three objectives, you can complete the mission at any time. The three objectives are claim the flag(s), loot trade goods/the crate(s), "beat defenders"/kill the defenders.
Reach at least one objective for a draw and two or more objectives for a victory. Getting killed is a loss.
Tutorial reward 20 influence points and 1100 trade goods.
Community content is available under
CC-BY-SA
unless otherwise noted.