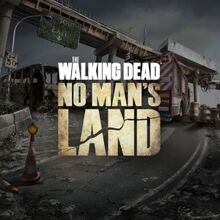 Welcome to the "The Walking Dead: No Man's Land" Wikia
The Walking Dead: No Man's Land, is an official mobile game produced by Next Games launched on iOS on 8 October 2015 and Android on 29 October 2015. Game is based on AMC's "The Walking Dead" TV series. (which was based on comic books created by writer Robert Kirkman, and artists Tony Moore and Charlie Adlard)
Every contribution to this wikia will be greatly accepted. Thanks for your help.
Game's twitter at http://twitter.com/TWDNoMansLand
Latest update: 5.0.1.340 (checked 2020 June 28)
More about game
[
]
The Walking Dead: No Man's Land is a tactical turn-based game based on AMC's hit TV series The Walking Dead.
In this post-apocalyptic turn-based strategy game, play missions to collect resources, powerful weapons and armor, and defend your base. Fight like it is your last day on earth and survive the zombie apocalypse!
• HUNDREDS of hours of content
Hundreds of missions to choose from. Story mode missions, challenging Distance missions, camp building and weekly challenges!
• COLLECT & UPGRADE
Collect characters from AMC's The Walking Dead (TWD) TV series, such as Rick, Carl, Daryl, & Carol who started in TWD season 1, and Maggie who started in TWD season 2. Train and upgrade your best survivors to battle in turn-based tactical combat fighting zombies and/or PvP (Player versus player). Gather powerful weapons along the way to kill zombies.
TIP: to avoid PvP raids (which seem like a waste of time), DO NOT set up Outpost defenses (aka "Create new outpost"). You can start (&upgrade) Outpost building in camp, JUST don't set up Outpost defenses.
• PLAY online and craft the BEST strategy
Your guild is the key to protecting you(???) through the zombie apocalypse and progress in this strategy game. Unite your guild to become the strongest in PvP! Your survival skills decide whether your guild will be dead by daylight or stay alive till the last day on earth. Besides PvP, if you are a lone-wolf, there's story mode for you in this strategy game.
• FIGHT zombies in TACTICAL TURN-BASED combat
Fight hordes of zombies with your survivors and heroes in tactical turn-based combat. Charge up your special attacks and battle in different scary locations. Your tactical choice is important to survival!
• Play in locations inspired by TV series
Every week playthrough the new episode of TWD TV season, fighting off zombies and building your base! New locations sometimes have special zombies to derail your tactics. You might have to think of a new tactic to deal with new zombies.
• Build your camp
To survive in this post-apocalyptic zombie world, build your base to upgrade weapons, heal your survivors after PVP raids, and supply food to all the survivors in your base. Fortify your walls and upgrade your outpost to protect your survivor base from PVP enemy raids and attacking zombies.
In this wiki
[
]
Stories and locations, Stories Rewards
Survivors, Hero_survivors, Survivors Slots, Radio, Charge ability, Bleeding, Burning
Movement (survivors & enemies)
Traits
Equipment (Weapons and Armors), Outfits
Buildings
Outpost, Trade Goods, Influence
Walkers

Special summer event (until July 15, 2019): Gunpowder Summer
Daily Quests
Missions: The Distance
Weekly challenge, and Guilds
Achievements
Gold, Bundle
Cinema & Video
Map
Guides: Beginner Guide, Damage Guide, Farming XP Guide, Edit Guide, Playing on PC Guide
Updates
Forum
Sources:
[
]
-The Walking Dead: No Man's Land Official Forum
-JayZ's NML strategy compendium
-Community Help :D